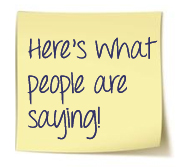 Testimonials
Peer Mentors
"Thank you for having me as a Peer Mentor over these past 10 weeks. It was truly a wonderful experience."
Heather H.
---
Players
"It was interesting to see Alana use her creativity and ideas in getting the players to engage. One of the activities that stood out most is the Yes, and Offer game. I like this game, because it is important for us to appreciate and accept the offers of each other. Building on each others' offers can also help to create team effort and participation."
Rox Anne J
---
"Interactive…Wonderful Presenter!"
Barrie Participant
---
"It was awesome!"
Duncan Mc (age 14)
---
"Alana got everyone involved without pressuring them!"
Markham workshop participant
---
Parents
"It was great knowing my daughter was having fun!"  
parent of Newmarket player.